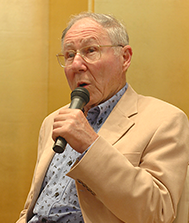 A psychiatrist in the United States of America, Dr. William Glasser would prescribe drugs for his patients. However, on the other hand, he got suspicious about the way of psychiatric treatment that would not get rid of the factors of unhappiness. Through his wealth of experiences, he has systematized and established a way of counseling, called "Reality Therapy", which does not need any drugs. He organized the way of its therapy in his book "Reality Therapy", and it has been published more than a million copies in the United States.

Afterwards, he has advocated "Choice Theory" which reveals a mechanism of action of human beings. His book "Choice Theory" has been getting accepted by not only counselors but also business people, students or housekeepers as a guiding book for them to live a better life.
Mr. Kakitani, Chairperson and a Director of William Glasser Memorial Foundation, participated in the first basic intensive training in Japan in 1987, and Representative Director Aoki participated in the second one. Then, they have been undertaking central roles to expand Choice Theory in Japan by establishing Japan Reality Therapy Institute, an NPO, and Achievement Corporation, a Choice Theory based human resource development consulting firm.

Dr. Glasser has passed away in August 2013. However, Choice Theory has been learned in more than 62 countries and been used in various fields such as counseling, schools, work places, husband and wife relationships or homes.
In California, USA, a prison for women only, which named CIW, has recorded 2.9% second offense rate of those who learned Choice Theory even though the average rate is 67%.
Dr. Glasser has applied the concept of Choice Theory to communal societies and advocated Quality Community –a community in which Choice Theory becomes widespread and people would never try to force someone else - as an ideal way the society should be.

William Glasser Memorial Foundation takes over Dr. Glasser's will.
Representative Director Aoki put in his personal assets to establish the foundation for the purpose of research and expansion of Choice Theory. This foundation is spreading Choice Theory into various fields, ranging from husband and wife relationships or homes to schools, organizations, communal and global societies in order to realize the ideal society with no compulsion suggested by Dr. Glasser.